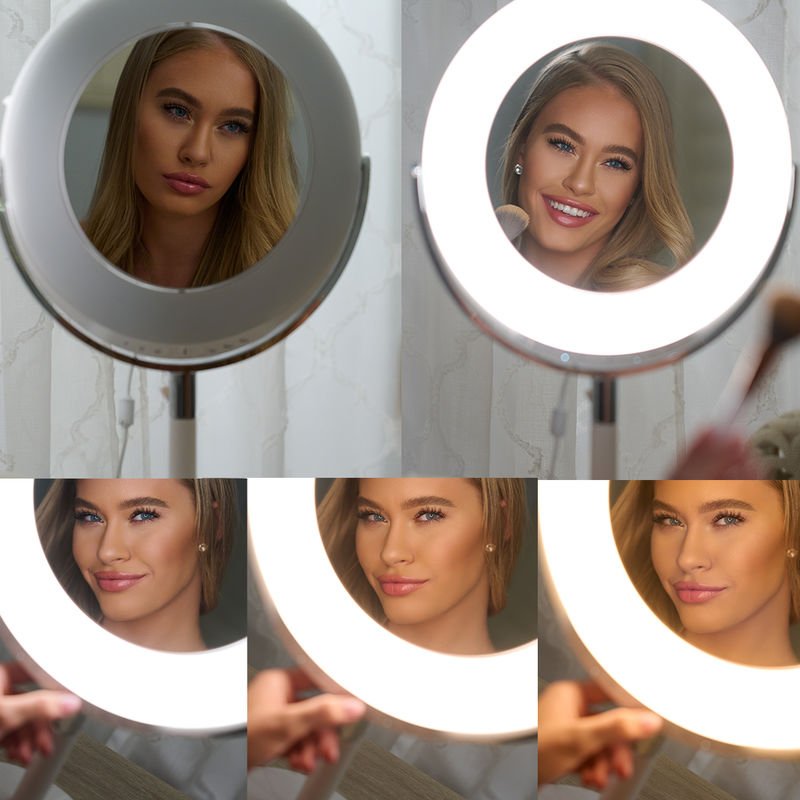 When putting on your face or capturing content it's so important to light your features not just well, but accurately and to your specific needs. Sometimes you need the power to warm up, cool down or brighten a shot.
The average bulb may give you light, without a doubt, but will it give off the same light that mimics golden hour? Not unless you're trusting the job to Ilios Lighting's Beauty Ring.
A Beauty Ring has three different lighting settings to utilize: warm, cool, and blend. Utilizing any of these features can bring depth, drama and a new dynamic to your content. Use light to tell a story, because lighting matters.
Lighting matters
One more time for the haters in the back: Lighting matters. Look at the difference between just lighting a subject period. This model's eyes connect so much more with the audience with a new light. Her coloring has more life and the light is giving her face such great shape. Who wouldn't want those cheekbones? And you almost can't see them without the light.
You're probably thinking that your phone camera flash can do that. Yes, your flash can add light, but with a constant light source, you're not guessing about what the light is reflecting off of. A flash leaves such a guessing game. The Beauty Ring's light will give you the confidence to know that you're getting the shot you want on the first try.
Warm it up
Who doesn't love the post-beach nap? You hop in the shower after and catch a glimpse of your skin… W O W. This setting is that instant glow.
This warmth brings a youthful oomf to your subject. Much like the sun brings a general boost to your day, this setting helps bring a certain sense of happiness to the story your picture tells.
Cool down
As the inverse to the "warm" feature, the "cool" setting tells a different story. This blue hue lets the model stand out. The cool mode mimics natural daylight.
Brighten your shot
There's no need to lose something in a shot just because you didn't have the right lighting. When you use the "blend" setting on the Beauty Ring, you introduce a combination of warmth and cold to simply brighten your scene.
Instead of fighting with different hues, the light balances itself to bring the sun into the shot in a subtle, soft and even way. Don't forget, Ilios Lighting's Beauty Ring has a 98 CRI score, meaning it gives the sun a run for its money as far as color accuracy.
If you're still not convinced about the Beauty Ring, try this at home with all the different light fixtures for all these different benefits and your arms should be tired enough to change your mind.
Stay tuned for more tips and tricks on how to maximize the light in your life!