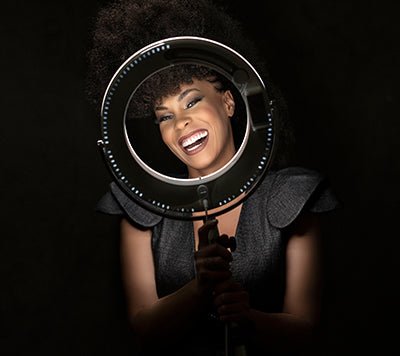 You don't have to be a makeup artist to put on a good face. Doing your makeup should be a celebration of you. You can pull up the most out-of-the-box makeup looks on YouTube and follow along, or you can swipe on some mascara and call it a day. No matter your makeup routine, these are some tips to live by. Consider this the pre-YouTube tutorial:
Put on your best face
Wash your face. It sounds simple, but your makeup lays so much better on a clean canvas.
Lighting! Lighting! Lighting! Whether it's the perfect little corner of your apartment (LUCKY!) or a well-researched ring light that you bought online like the rest of us, lighting can make or break your look. No one wants to be caught with an insufficiently blended neck once they're already at work.
Clean your brushes. Read that again. It's advice everyone's concealer is waiting for them to listen to. The cleaner your tools are, the cleaner your face is.
Be conscious of the different brands you like and the expanse of color they carry. Many makeup retailers will color match you for different brands they sell, but your color can change season to season. So don't get caught wearing your winter shade on your way to brunch in August. This is also why lighting is key! This goes for shades of foundation, BB/CC creams, concealer, bronzer and contour.
Invest in a great primer and setting spray. Once you've created your masterpiece, you want it to last all day. Word of mouth and online reviews are a great place to start, but stick with what works for you.
Prepare your Routine
That brings us to an underappreciated tip: BE PREPARED. Life is messy and imperfect, be ready to adapt to your day. Here's what you need to keep with you at all times:
Bring your lippie with you for touch-ups. Don't get caught with the ghost of this morning's lipstick on your edges, re-apply throughout the day.
The cheapest portable compact still reveals the lipstick on your teeth—keep it on you like your favorite perfume.
Keep emergency mascara and eyeliner in your bag for last-minute plans or pre-meeting refreshes. You never know when you might need to throw on a little face.
Carry travel-size makeup wipes. Done with your lip color? Out too late? Not going home? Makeup wipes are a great solution for an unexpected (but welcome) turn of events. They're also a great mid-day reset on a sticky day and a last-ditch deodorant option on forgetful days.
Always double-check your lighting! Using a phone flashlight mimics natural light fairly well on the go.
Make sure you're having fun! This should be a positive experience. Break the rules. Realistically, there are none. Forget the color wheel. You are the art and the artist in this story. Even if you only wear makeup for special occasions, enjoy all the different parts of your beauty each step brings out.
Now you're primed (not sorry) for some fun! Get blending, cut-creasing, winging, or whatever you feel your best doing.