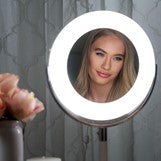 When the weather gets nicer and you can go outside more, it's important to have your beauty routine down. This means getting all the right products to perfect your makeup looks and trying out new trends. It's time to go see your family, have a date night on the town, and plan picnic parties for you and your girlfriends.
We have compiled the top five beauty essentials everyone should have and give some tips for using them to make the most out of the season.
Ilios Beauty Ring
The Ilios Beauty Ring is a must have for all makeup looks! It offers the best natural lighting so you can make sure your makeup will look good outside and everywhere you go. It will also make your pictures look amazing for posting on Instagram and sharing with friends. You can't use the other beauty essentials without having a ring light to do your makeup and show off your amazing looks. At Ilios, we want you to look and feel confident all year long. With the Beauty Ring, you can stand out from the crowd.
Lifting Mascara
Mascara is one of our favorite makeup essentials because it is a staple in any look. If you want to go for lighter natural makeup, a few swipes of your favorite mascara is enough to add a pop to your eyes. Mascara can be used on its own or to spice up an eyeshadow look. We love its versatility.
Eyebrow Gel
Eyebrow gel is a must for keeping your brows in place all day long. If there's wind or rain outside, your brows will still look great with good eyebrow gel. This is another makeup staple that can be used by itself or with other products. Try a light eyebrow pencil to fill in your brows before applying the gel. Use upward strokes to get a natural look.
Beautiful Blush
Whether you prefer cream or powder blush, this is a must have for spring and summer time. It makes your cheeks pop with a nice rosy color and gives your face an uplift. Heavy blush is a new spring trend to try out, but if you want a more natural look, go lighter and blend the blush into your face.
Concealer
Concealer is great for natural to contoured looks. It is easy to apply under the eyes to wake up your face and also is useful for contour looks. You may want a couple of shades to match your skintone and some for contour looks. No matter which concealer you choose, it is always a handy product to have.
If you don't know how to blend contour makeup, check out this guide on how to blend makeup flawlessly. Contour looks are super popular on social media and using a ring light will show it off in the best lighting.
These basic but essential beauty items are great to have on hand at all times. If you're in need of new products, why not go shopping for some new essentials this season? We'd love to see some of your favorite beauty essentials. Follow us on Instagram @ilioslighting for more makeup tips and inspiration.