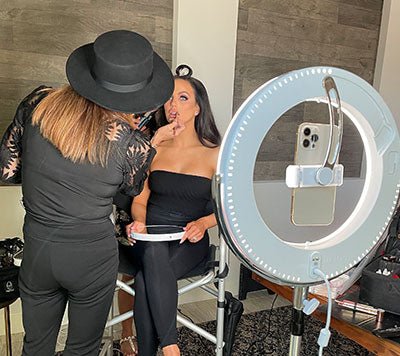 Leila is one of the most sought-after Makeup Artists based in Las Vegas but has also traveled to California, Utah, New York, Chicago, Hawaii & even far places like Canada & Mexico to glam some of her Brides. With more than 12 years of experience in this industry & a passion for high-quality services, her mission is to offer her clients with everything they need to feel and look their best.
Join Leila as she discusses firsthand her experience with the Ilios Beauty Ring.
The Beauty Ring is the first-ever all-in-one makeup mirror and ring light combination designed by lighting experts and perfected by celebrity makeup artist Mario Dedivanovic. It has 5 dimming levels, 3 color modes and is a must-have for makeup, skincare, content creation and zoom calls!
Upgrade your vanity with this gorgeous custom mirror! It's 10x brighter than our competition and we come the closest to matching actual sunlight. It's not only the best makeup mirror, but it's the best streaming light. The smartphone arm is built in meaning no loose parts to deal with or extra clutter on your vanity. Our LED lighting combats overhead fluorescent lighting. The LEDs are covered with a layer of custom diffusion and won't result in unflattering shadows or eye strain commonly found on low-quality dot-style LED mirrors.
Use the included tabletop base or mount onto an optional light stand ideal for makeup artists and vlogging.


Check out Ilios Lighting