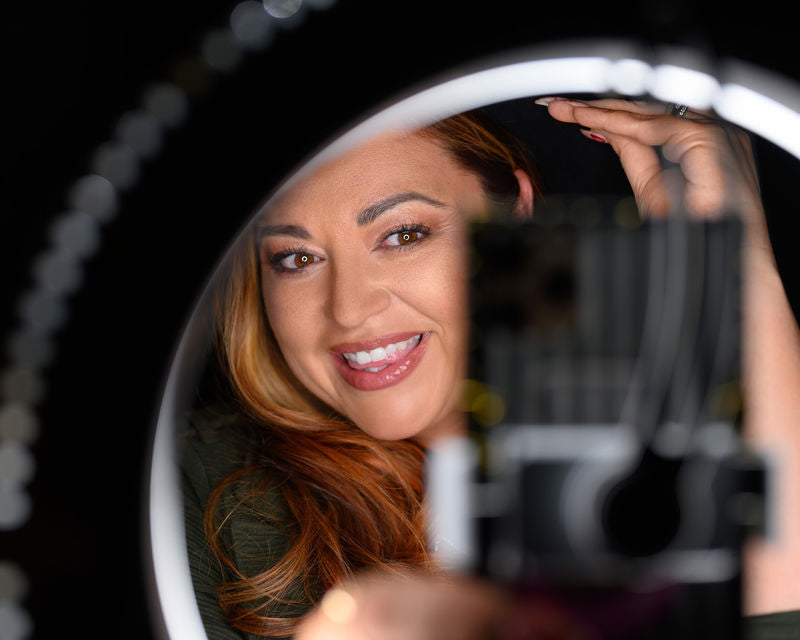 Award-Winning Makeup Artist Leila VonSleichter Reviews The Ilios Beauty Ring Light
What Makeup Experts are Saying
"It's amazing! There's cool, blend and warm. Oh my gosh! So this is going to change different colors? I love the blend. I can't wait to play with this and put some makeup on!"
Leila VonSleichter
Leila is one of the most sought after Celebrity Makeup Artists in Las Vegas known for her Influential Presence in the Beauty community. She has also hosted many events where she has interviewed some of the leading people in her industry. She has even done their makeup while she interviews them. With her fast-growing social media following on Youtube & Instagram she has some of the world's top brands asking for her input and try out their products to share with her following.
Beauty Ring
Color and lighting produced by the Ring Light Blend Warm and Cool light perfect for creating content. 
The reversible 1x and 5x mirror is constructed with distortion-free float glass and is oversized with hair styling and makeup in mind. The innovative smartphone arm incorporated into the design includes a magnetic pocket to store the adjustable holder.
Leaving no feature out, the Ilios Beauty Ring also offers convenient mobile device charging with a built-in USB-A charging port. For even greater versatility, the tabletop base was designed at the ideal height for makeup application, selfies and video conferencing on small to mid-sized laptops – and can also be mounted onto a height-adjustable light stand.